The LGBTQI + community very early on adopted dance as a means of advocacy and emancipation. In the closed spaces of bars and nightclubs, this community could express itself in safe places, where everyone was free to be themselves, and by choosing their dance partners regardless of their gender. The most famous example is undoubtedly the culture of voguing, developed by the Latin and black American LGBTQI + community and which inspired Madonna to her hit "Vogue" in the early 90s, the film "Paris is burning", and more recently the series "Pose" currently airing on Netflix. 
In Brussels, at the same time, gay and lesbian bars were also spaces of freedom and security, places of celebration, of seduction, of pride, through music and dance… until daylight. where the community took to the streets to claim their place in the public space, on the occasion of the first Brussels Pride in 1995. 
Since then, the LGBTQI + community has come a long way and Belgium is recognized as one of the most progressive countries in the world while Brussels is unmistakably gay-friendly. Yet today, being yourself in public space still sometimes poses a risk. The duality has not disappeared and some prefer or still need the security of confined spaces. 
Sing Out Brussels! (The Fabulous Queer Choir) will illustrate this debate and this path towards emancipation and freedom through the dance theme. Our thread is based on audiovisual archives filmed in Brussels in the 1970s and 1990s. The evolution from the discretion of closed places to freedom in the public space will be illustrated in songs that all have a link with the theme of dance or emancipation.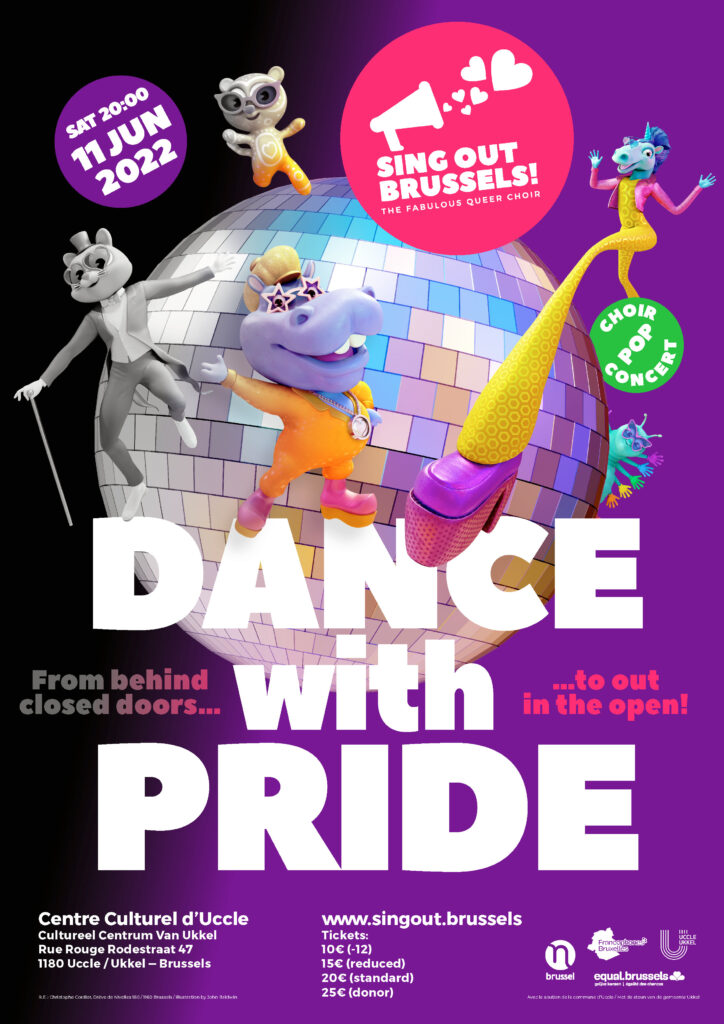 Date
11/06/2022 – 20h
Cost
Basic price: 20€
Supporter: 25€
Group (10 people): 15 €
Reduced price (children, CPAS, jobseeker): 10€
Venue
Centre culturel d'Uccle
Rue Rouge 47
1180 Uccle
Tickets
Book your tickets here