Sing for Life is a charity concert organised by Tapalanote (the choir of Brussels Gay Sport ). For the first time, Brussels two other LGBTQI+ choirs took part in the event, which gathered 120 singers for a concert of the three headline acts.
Sing Out Brussels! was back on stage this Saturday, 3rd December for the Sing for Life concert. The choir was delighted to accept the invitation extended by Tapalanote, which has been organising this charity concert for the past ten years around World AIDS Day. This year, the profits of the concert go to GrIS Wallonie-Bruxelles, an organisation that speaks to young people in schools to break down the many harmful stereotypes surrounding sexual orientation and gender identity.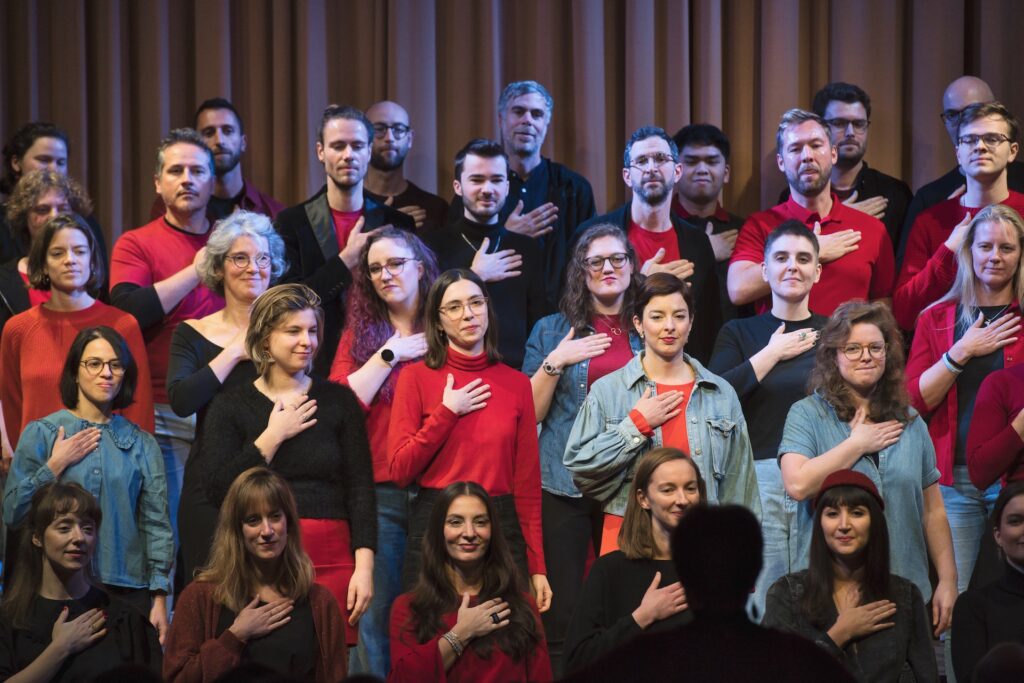 Due to space limitations at the venue in the Maison du Peuple in Saint-Gilles, we put on the same concert twice on the same day. The 60 singers from Sing Out Brussels! under the direction of Emily Allison performed a sneak-preview selection of numbers from their upcoming show "School's Out". This show will tackle the theme of LGBTQI+-phobias at school through songs that reference coming out, first times, the toll of social pressure, as well as celebrating those friendships that save us. The concert will take place on 10 June , 2023 at the Uccle Cultural Centre.
We sang Brave by Sarah Bareilles, a song about resilience; Creep by Radiohead, about feeling different. We continued withTime After Time by Cindy Lauper, about allies you can count on, and Résiste by France Gall about rebellion. We ended our concert with two Christmas songs, because the holiday season is approaching, and because we are singing at the Plaisirs d'Hiver on December 18!
At the end of each concert, all members of the three LGBTQI+ choirs Punch'Art, Sing Out Brussels! and Tapalanote came together on stage to perform "Your Song" by Elton John. The 120 choir members surrounded the audience for this emotional moment. It was indeed the first time that these choirs have sung together in public. This is a first-time collaboration that we hope will lead to others, not least at the Various Voices 2026 festival that will be hosted in Brussels by Sing Out Brussels!