Busy agenda for our choir during Pride week. A week full of firsts (concert on the Grand-Place of Brussels and on the main stage of Pride). Many strong emotions shared with our public!
In Brussels, Pride traditionally takes place around May 17, the international day against homophobia, biphobia and transphobia. The May 20 parade, festive and colorful, had as its theme this year "Protect the protest", in order to emphasize its advocacy role as well.
For Sing Out Brussels! the Pride started a week earlier as we participated in several events organized as part of Pride Week, which featured LGBTQI+ themes and artists.
The museums of the City of Brussels organized the event "Pride @ the museum". On Sunday May 14th, we sang at the Museum located on the Grand-Place. The concerts were planned inside this beautiful building, but due to the sunny weather, the museum team proposed that we also sing on the Grand-Place. Even if singing outdoors without a sound system is always a challenge, it was a fantastic opportunity to sing on the most beautiful square in the world!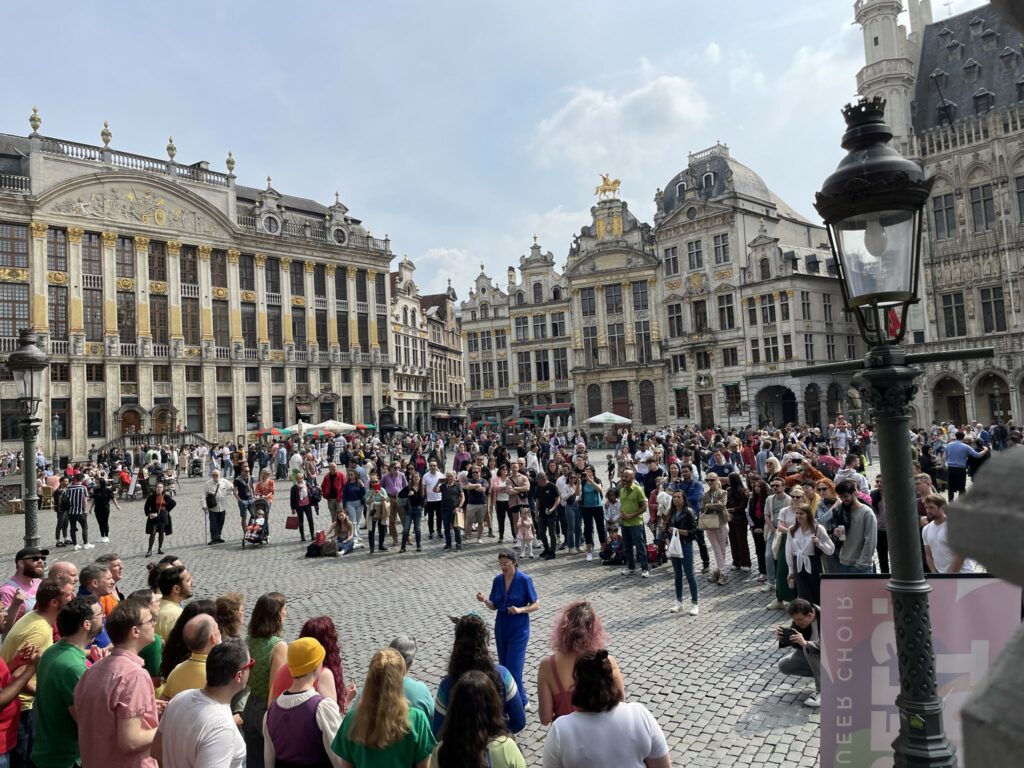 A few days later, we were invited to present a concert at Les Grands Carmes, the new LGBTQI+ association pole that brings together associations active in the field of health. Located a few steps away from Manneken Pis, this building will become an important socio-cultural place for our community. A fundraising operation has just been launched to develop the project.
On Friday, May 19, we presented a large selection of the repertoire that we will sing in the show "School's out". It was a good exercise for us and the audience warmly applauded our performance. The party then continued in the courtyard of the Grands Carmes with other queer artists and DJs.
The highlight of the week was of course Pride itself on Saturday, May 20th. Last year, our video "In these heels" was screened as the opening of the event. This year, the organizing team absolutely wanted us on stage! So we had the honor of singing on the podium of the Mont des Arts, just before the speech of Prime Minister Alexander De Croo.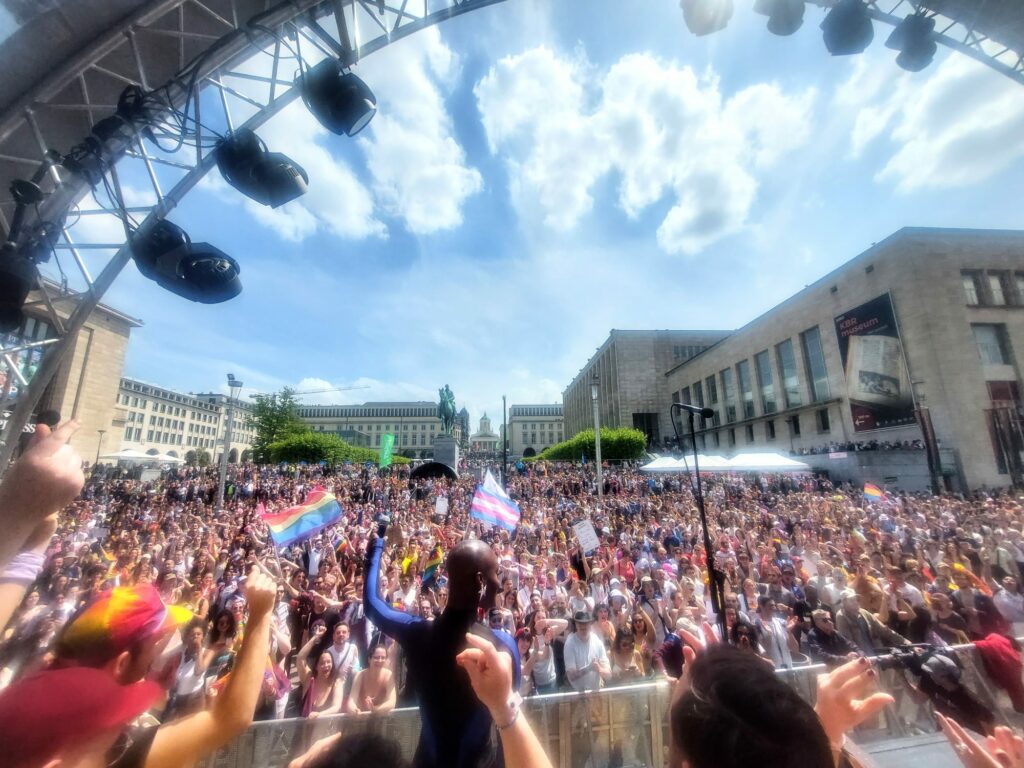 We didn't really know what to expect. How good would the sound be? How would the audience react? In the end, we got carried away by our enthusiasm and went on stage with pride. The rest was pure queer joy. A receptive audience, warm applause, very appreciated songs… We know we had an important moment, and we will remember it for a long time.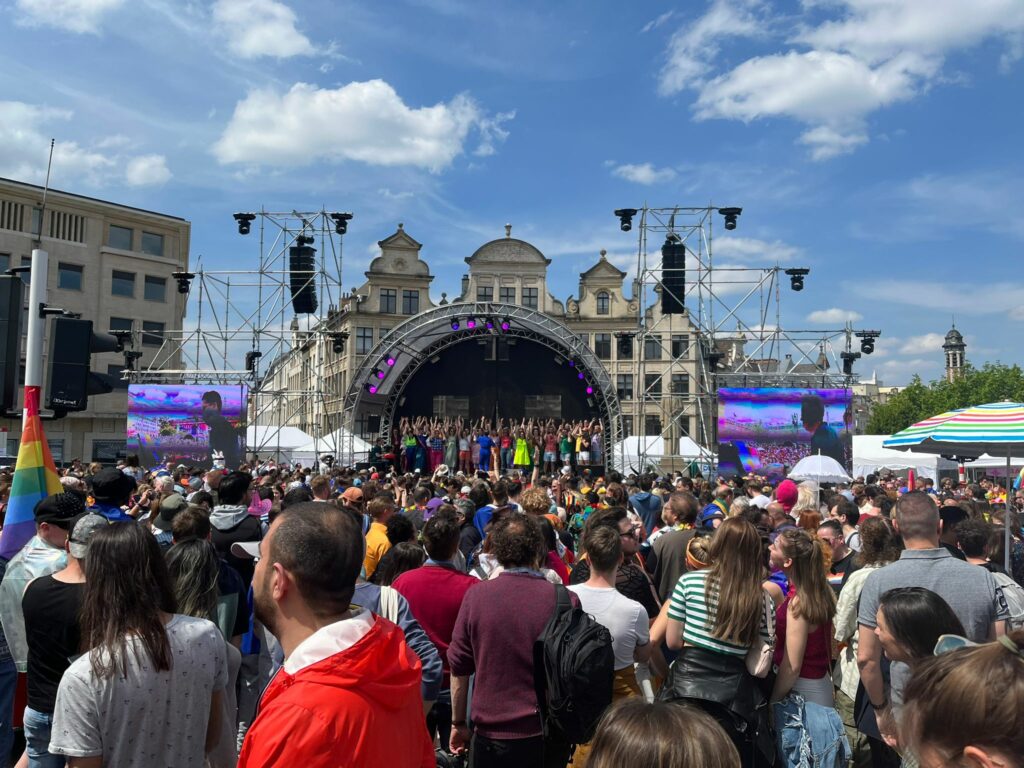 Afterwards, we took our place in the parade and marched through the streets of Brussels proudly displaying our colors and stopping from time to time to sing. This beautiful day had an important meaning for us, three weeks before our show "School's out". It allowed us to spread our values and pride, while reinforcing the community spirit within our choir, rich in its diversity.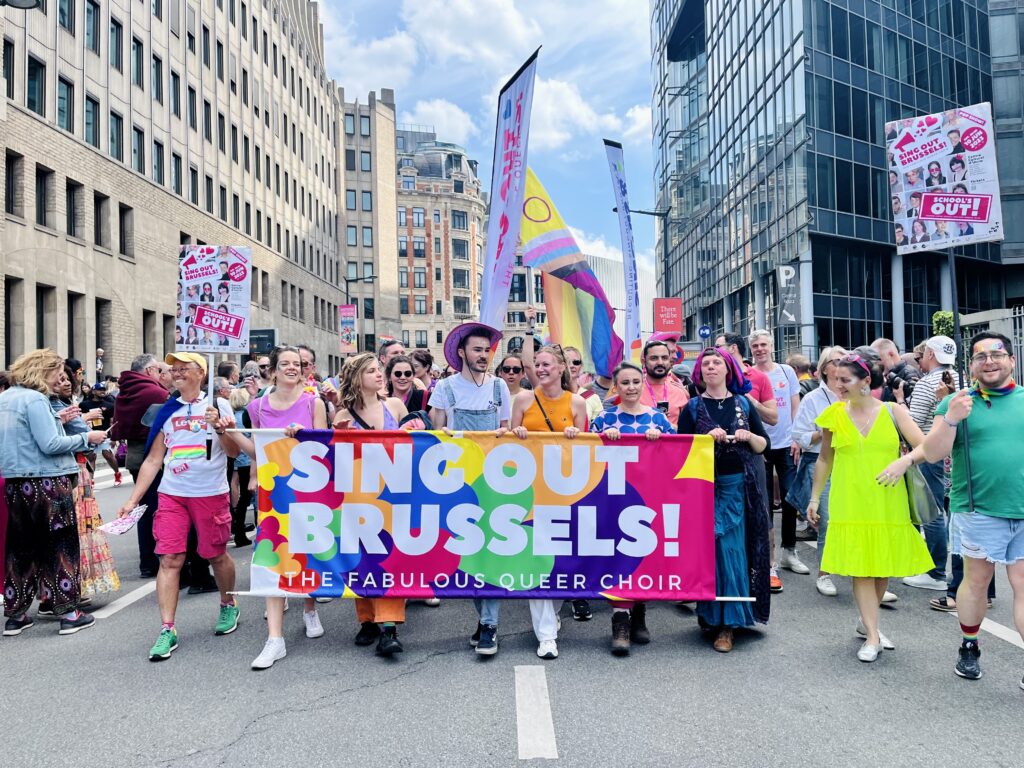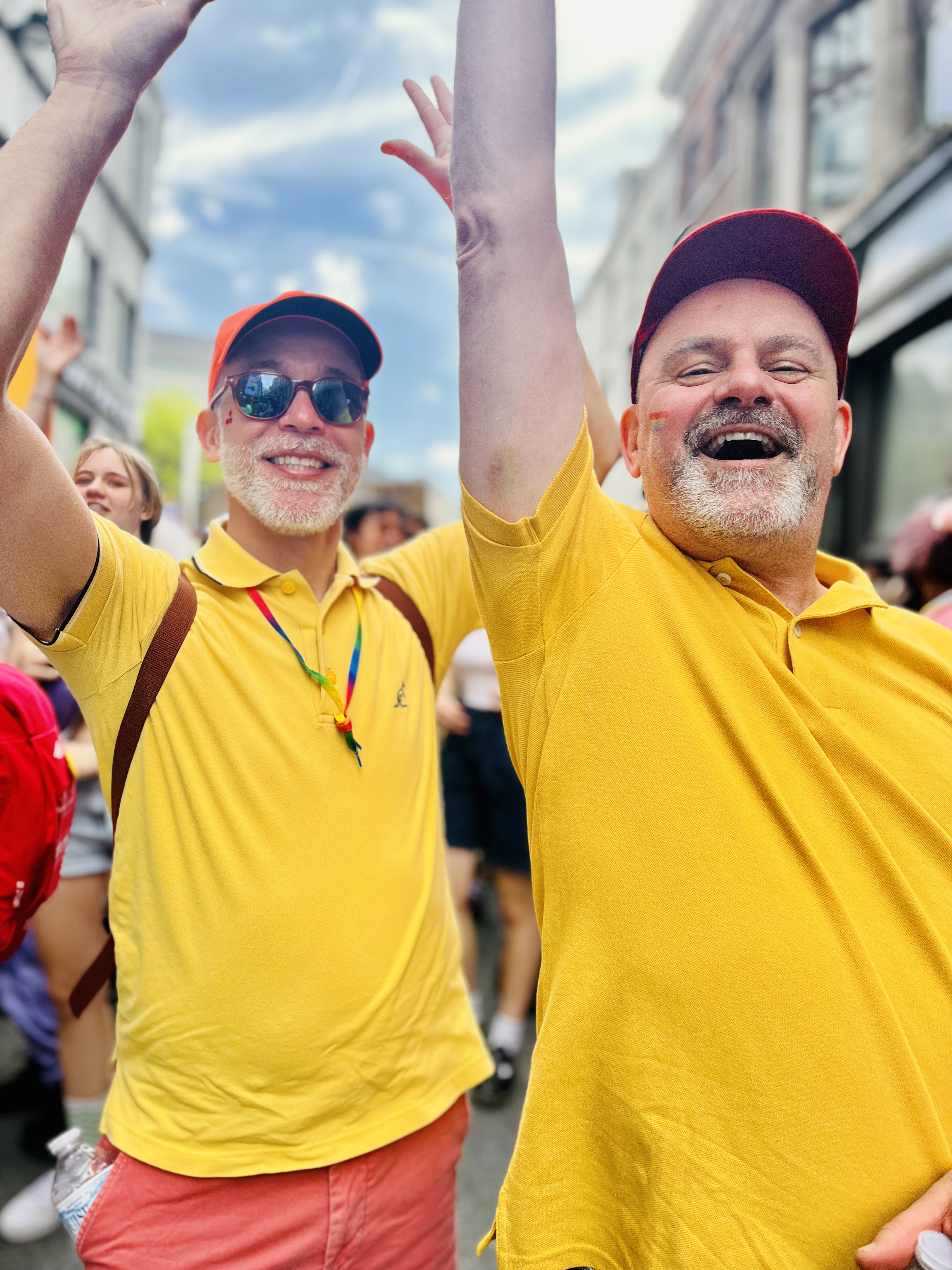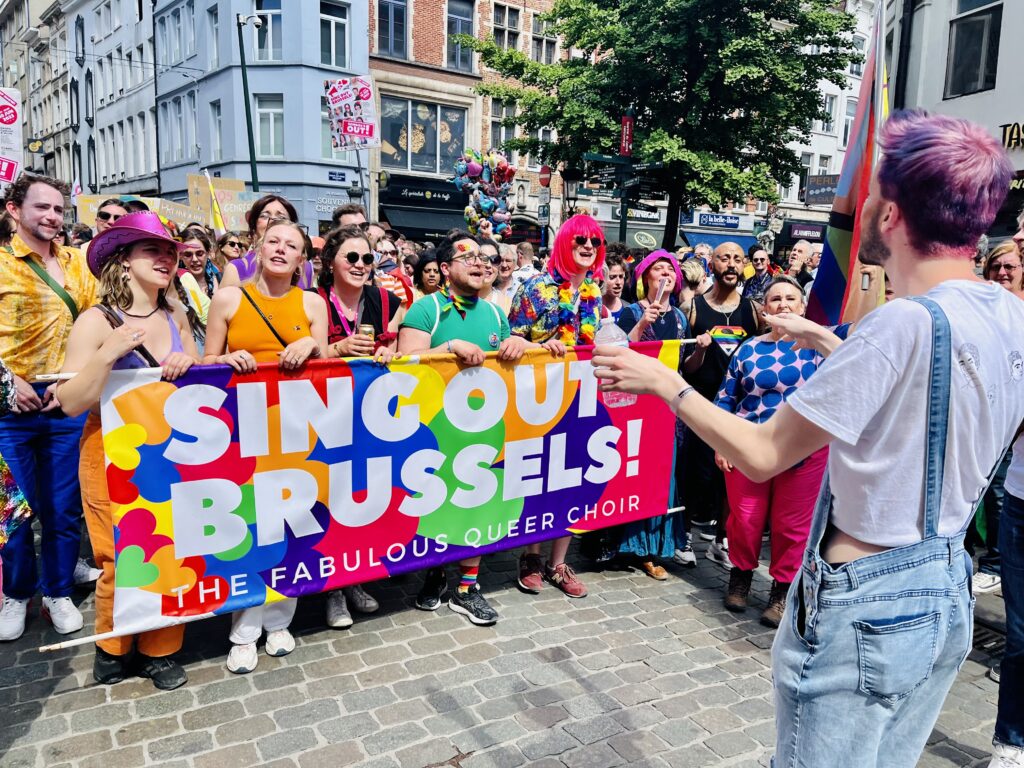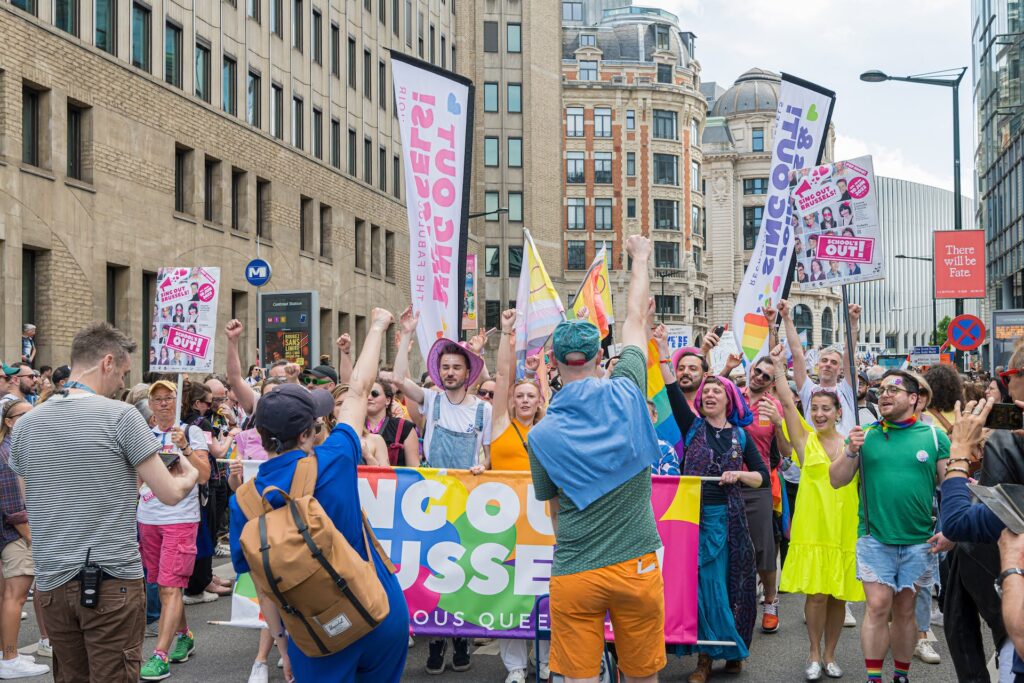 Pictures Emily Allison et Todor Krastev