The first working weekend of the season brought the members of our fabulous choir together in Brussels at GC Elzenhof. This weekend was unique, not only because of our special guest but also because we dedicated more time to building our community and getting to know each other better. As always, it was also a lot of fun and we enjoyed spending time together after the summer holidays.
For the duration of the weekend, we left our scores at home, because these two days were not about making progress towards our next show. Instead, the focus was on strengthening our community and reconnecting with each other. After the hard work during Season 5, culminating in our amazing show, School's Out, and an incredible trip to the Various Voices festival in Italy, we decided to take things a bit slower with Season 6.
Therefore, on Saturday, September 30th, we gathered in the heart of Brussels at "Mont des Arts" to kick off our weekend with a visit to the next Various Voices festival locations. Since the festival is coming to Brussels in 2026, Marina and Christophe provided us with the first details of the event, which we are all tremendously excited about. They guided our choir members through the streets that will soon be filled with pride, joy, and music. Naturally, we could not resist sharing our own music with others, so we sang some songs from our repertoire for the locals and tourists passing by, helping them start their weekend on the right note.
We spent the rest of the weekend at Elzenhof, where our choir had an outstanding opportunity to participate in vocal workshops led by Allan, the founder of "Chanteur Moderne" (www.chanteurmoderne.com). He introduced us to the fascinating world of vocal science and provided structured, easily understandable information about the anatomy and physiology of our vocal system. Allan dispelled numerous myths, including about food harming the voice (no, a piece of chocolate before the concert will not harm your performance). He explained the impact of posture and many other factors on our voices, enlightening us about the fact that the human larynx is gender-neutral, stating "If you look inside, they all look the same." Two hours of this incredible workshop passed quickly, leaving everyone impressed by how little we knew about the process of sound creation within our bodies.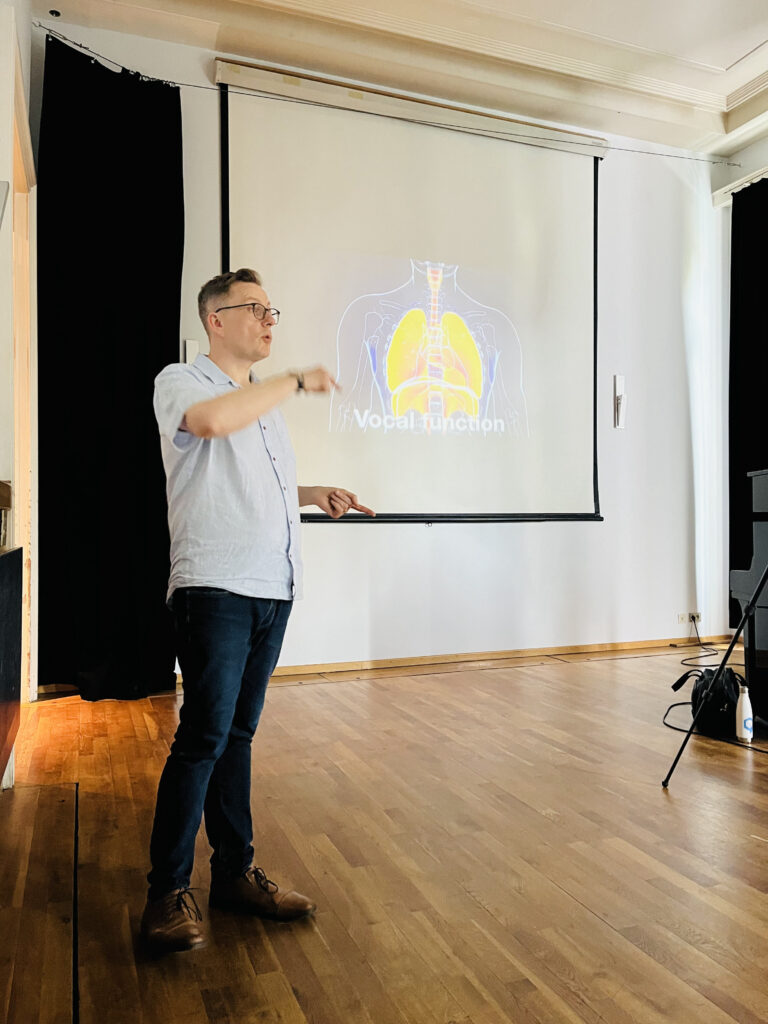 We also delved into a series of discussions important not only for our choir but for the broader LGBTQI+ community. During these discussions, we had the opportunity to share ideas and opinions on topics such as gender, identity, and age – both in general and in the context of the choir. Everybody was encouraged to express their viewpoint if they wished and to offer fresh insights to the conversation. These moments were truly precious, as we exchanged not only our views and perceptions but also some personal feelings, finding support within the group.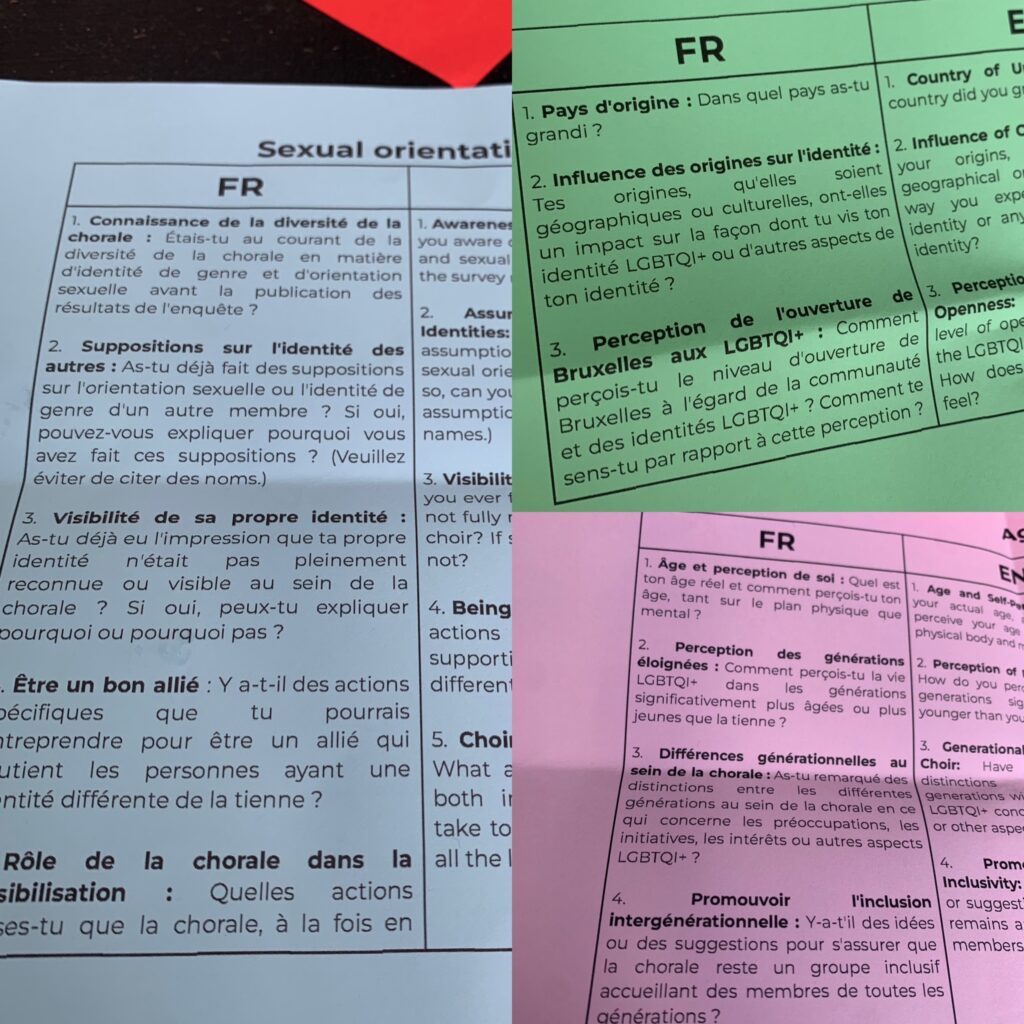 After this information-heavy afternoon, we enjoyed an incredible dinner prepared by our amazing Charlotte, who often joins us during our biannual weekends to provide the most delicious food. We are very thankful to have her. After dinner and a short break with a glass of wine, we returned to important matters.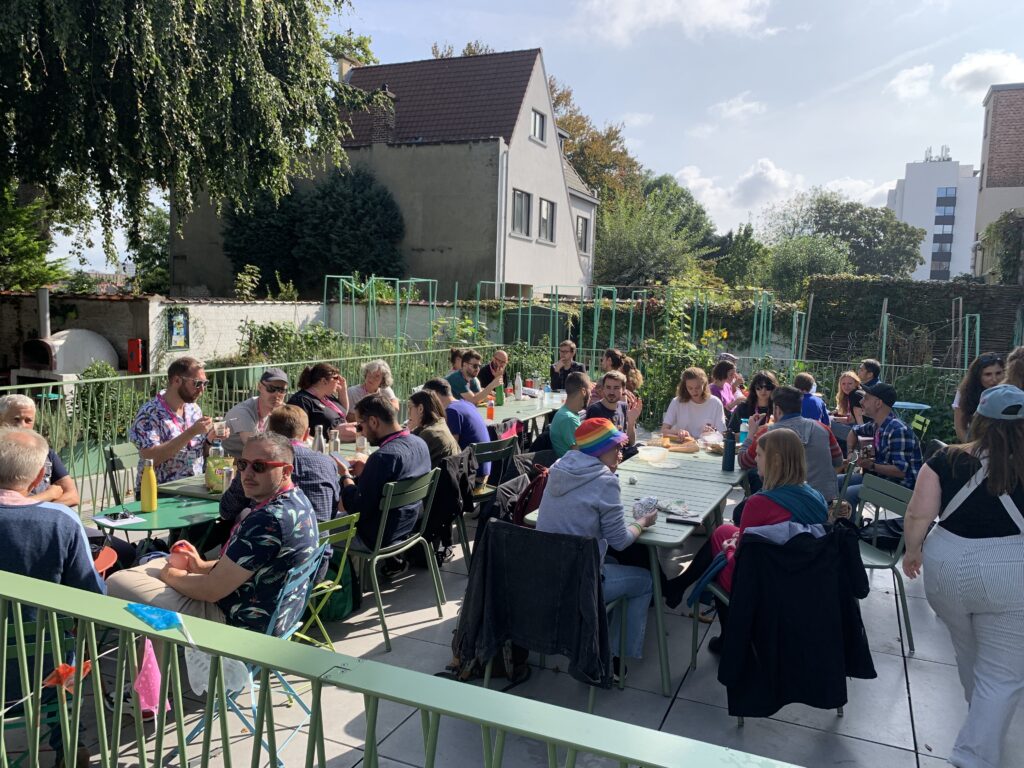 At this stage, Joy Team Strategy presented our new Code of Conduct intended to help us prevent disputes. This document was reviewed and amended by all members last year, with further revisions made by the JT. The October 2023 version has now been approved for implementation by choir members, with future changes still possible.
To round off the day, we were lucky enough to get a first taste of our Queeroes show planned for 2025. JT Creative presented the songs that have been selected so far and shared the overall vision for the concert. We are all looking forward to diving into this exciting project at upcoming rehearsals, so this was a fitting conclusion to our Saturday.
On Sunday, we continued to refine our vocal skills under Allan's expert guidance. During the second day, we explored the concepts of 'chest' and 'head' singing, learning how to blend them to achieve a higher quality of sound. It was a delightful experience, filled with practice and singing in a warm and enjoyable atmosphere.
Furthermore, we continued our discussions on crucial matters for our choir, including attendance, volunteering, and our commitment to advocating for LGBTQI+ rights in every way possible. Our members shared valuable insights that will undoubtedly contribute to improving our group dynamic.
The last big activity of the weekend was a whole group singing session with Allan and our conductor, Emily. Allan taught us how to manipulate vowels to adapt our sound to different circumstances and enhance the overall quality. We attempted to incorporate these tips into our rendition of the song For Good, and the results were remarkably satisfying.
We extend our heartfelt gratitude to Allan for two days of extremely insightful workshops, and to all our members for their active participation throughout the weekend. Additionally, we are thankful to those who were involved in organizing this memorable weekend. It was an experience that not only improved our vocal skills but also strengthened the bonds within our group. Stay tuned for more to come!