The LGBTQI+ choir Sing Out Brussels! (The Fabulous Queer Choir) presents its 3rd music video, "In these heels", on the occasion of the world day against homophobia, biphobia and transphobia, and as part of Belgian Pride.
Simon Finn, member of Sing Out Brussels!, wrote this song in tribute to the victims of the homophobic massacre in Orlando in 2016. Those who were victims of this massacre were described as sons and daughters of loving parents, but n have never been described as friends or lovers of each other. The homophobia that had inspired the killer was also present in the treatment of the news.
Directed by Julie Janssens, the clip illustrates the strength of the group in the face of violence and isolation. It is not only a question of challenging people outside the LGBTQI+ community but also of questioning the internalized queerphobia that reigns within it. It is therefore a call for solidarity and visibility.
The clip was screened at the Palace cinema (Brussels) on Friday 20 May as a prelude to the animated film "Flee", as part of the "Genres d'à Côté" film club.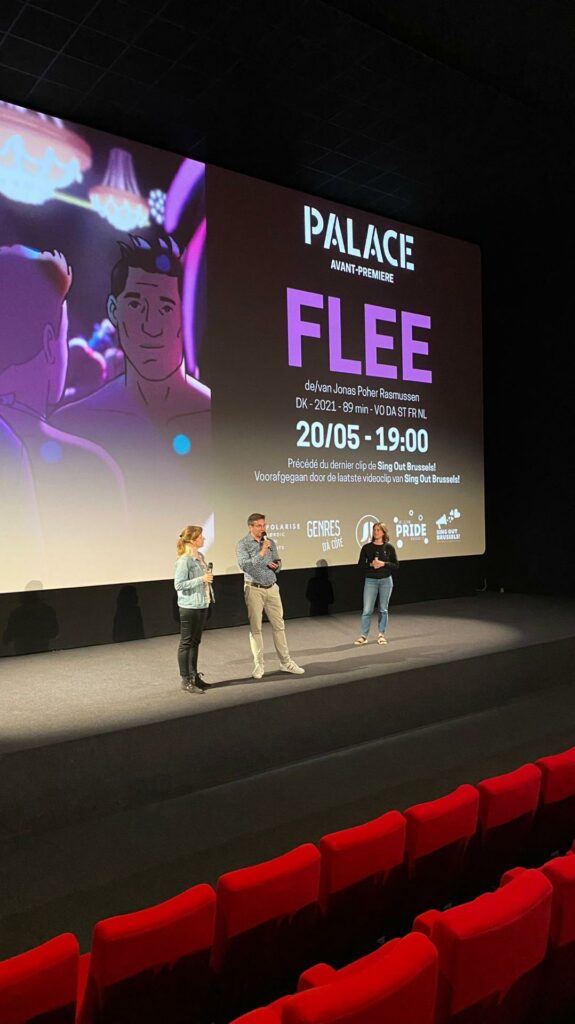 The clip was also screened at the opening of Belgian Pride on May 21.
Founded in 2018, Sing Out Brussels! represents the Brussels LGBTQI+ community by singing, while sharing its values ​​of openness, respect and freedom through music. The choir won a silver medal at the World Choir Games in Antwerp in 2021 and recorded its first studio EP in 2022. It was chosen to host the international festival of LGBTQI+ choirs Various Voices in 2026, which will bring together 4000 singers in the capital of Europe.
Watch and share this clip on Youtube, Facebook, Instagram and Twitter